The Chase Pro team riders Joris Daudet and Barry Nobles both earned USA BMX #1 plates at the 2022 USA BMX Grand Nationals in Tulsa, Oklahoma. Joris with the #1 Pro Title and Barry with the #1 Vet Pro title in Tulsa.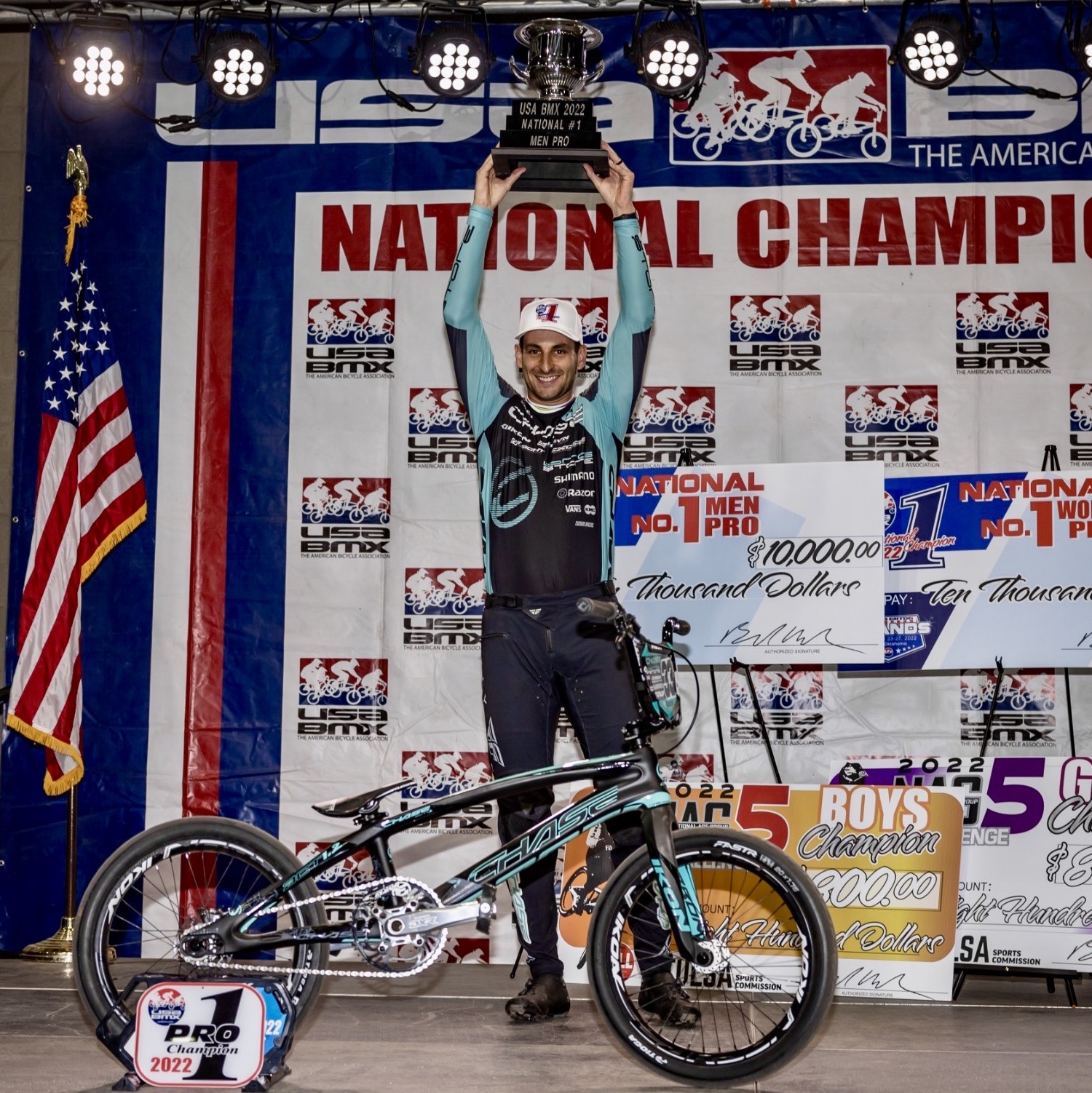 Joris Daudet makes history by winning his 5th USA BMX National #1 Pro title at the 2022 USA BMX Grand Nationals. Joris was on a mission the 2nd half of the 2022 USA BMX season, as a slow start kept him out of the points lead all year, but the 2021 USA BMX #1 Pro had a strong 2nd half of the year and with a huge win on Thursdays USA BMX Race of Champions, he put himself is a great position for a run at the 2022 title. Joris rode strong all day, finishing up 2nd for the overall after 3 main events, but ahead of all the other Pro riders, earning him the 2022 USA BMX #1 plate and a place in history as the 1st Pro Champions in the AA Pro Class to earn 5 Pro titles.
Barry Nobles wins his 1st USA BMX #1 Pro Vet title by sweeping the 3 Vet Pro Main events!
Barry had a string year with taking and holding onto the Vet Pro points lead all season long. But a cars just about 3 weeks ago, Barry was racing at an event and a crash had him in the Hospital. With a dislocated hand and other injuries, it was an unknown if he would even be able to compete for the title, but with extensive rehabilitation and perseverance, Barry was lined up on the gate and won each and every lap on the track, on his way to the Days overall victory and the 2022 USA BMX Vet Pro title.
What an incredible weekend it was for the Chase Pro team, with this being the 8th year in a row that Chase has won the overall #1 Pro title, between Joris and Connor Fields. Adding Barry's title, this was a year for the record books for Chase that was an incredible experience for us all here at Chase / BMX Racing Group.