Stop #4 of the 2021 USA BMX Pro Series took the Chase BMX pro riders Connor Fields and Joris Daudet to Just outside Atlanta, Georgia to the small town of Powder Springs. The Cobb County BMX track is located in a beautiful park recently updated to a state of the art BMX race faculty. This track is not only a perfect racing facility, but with large grass fields and a lake just beside the park, make it a must attend destination on the USA BMX race tour.
Racing for the Pros kicked off on Friday night, with 31 Pro riders in attendance, Connor and Joris would be victimized as they raced their way into the semi main event and then onto the main for most of the day, only with Joris grabbing a 2nd in the 1st Moto, when he was just behind Connor. When it was time for the gate to fall for the main event, Connor would grab the holeshot and take the lead into the first turn. Joris was just behind in 3rd. Connor would ride away from all other riders onto a win, his 2nd in the 2021 on the USA BMX tour. Joris unfortunately had some elbow to elbow action and was momentarily thrown off the fastest race line, but would recover and come back for a 4th place finish.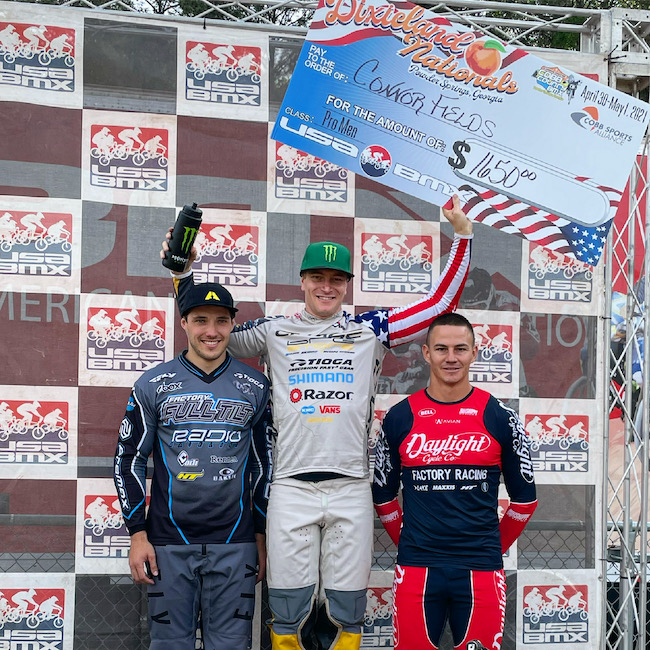 Day 2 would bring the riders once again back to the silky smooth Poweder Springs track. With the Win on Saturday, Connor had earned 99 USA BMX Pro Podiums, all aboard a Chase frame, and wanted to end the weekend out with #100.
The first Moto of the day pitted Connor and Joris agains each other and it looked as if Joris was out for redemption from Saturday, as he took the win. Connor would wound up 2nd, but that was the only time all day he did so, leading up until the  Main event. Joris also rode strong and made his was into lane 1 for the main event, with Connor next to him in Lane #2.
When the gate slammed, it was Joris just edging out Connor into the first turn, but seems that Joris railed the berm so hard, that he obtained a flat tune and that was it for his quest for a win. Connor gladly stepped it up and took over, taking the lead and the win once again, earring his 38th USA BMX Pro victory and his 100th Pro Podium!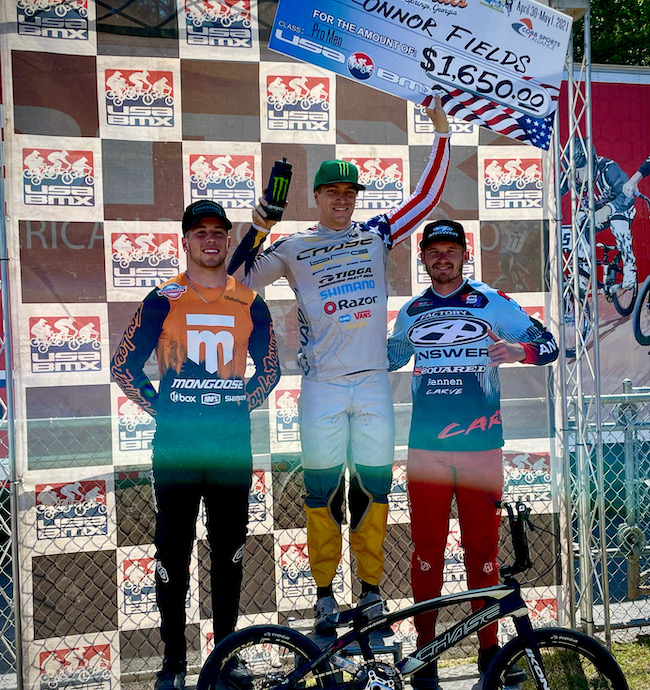 Connor and Joris will now head off to the next round of the USA BMX Pro tour in Nashville, TN in a few weeks time. Chase is proud to have some of the best sponsors in BMX!